Public Art
Maidstone has an eclectic mix of public artworks, including commemorative statues and lifelike sculptures, to more abstract pieces and light displays.
Alongside the permanent artworks, we also deliver a number of temporary projects that help to brighten up the town and engage people more directly with arts and creativity.
Our Public Art Guidance is available for applicants, agents, developers and planning officers to assist with commissioning public art.
Temporary Projects
Elmer on Tour - come and meet Elmer as he tours the borough this summer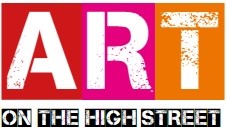 Art on the High Street - discover our mini art trail in the town centre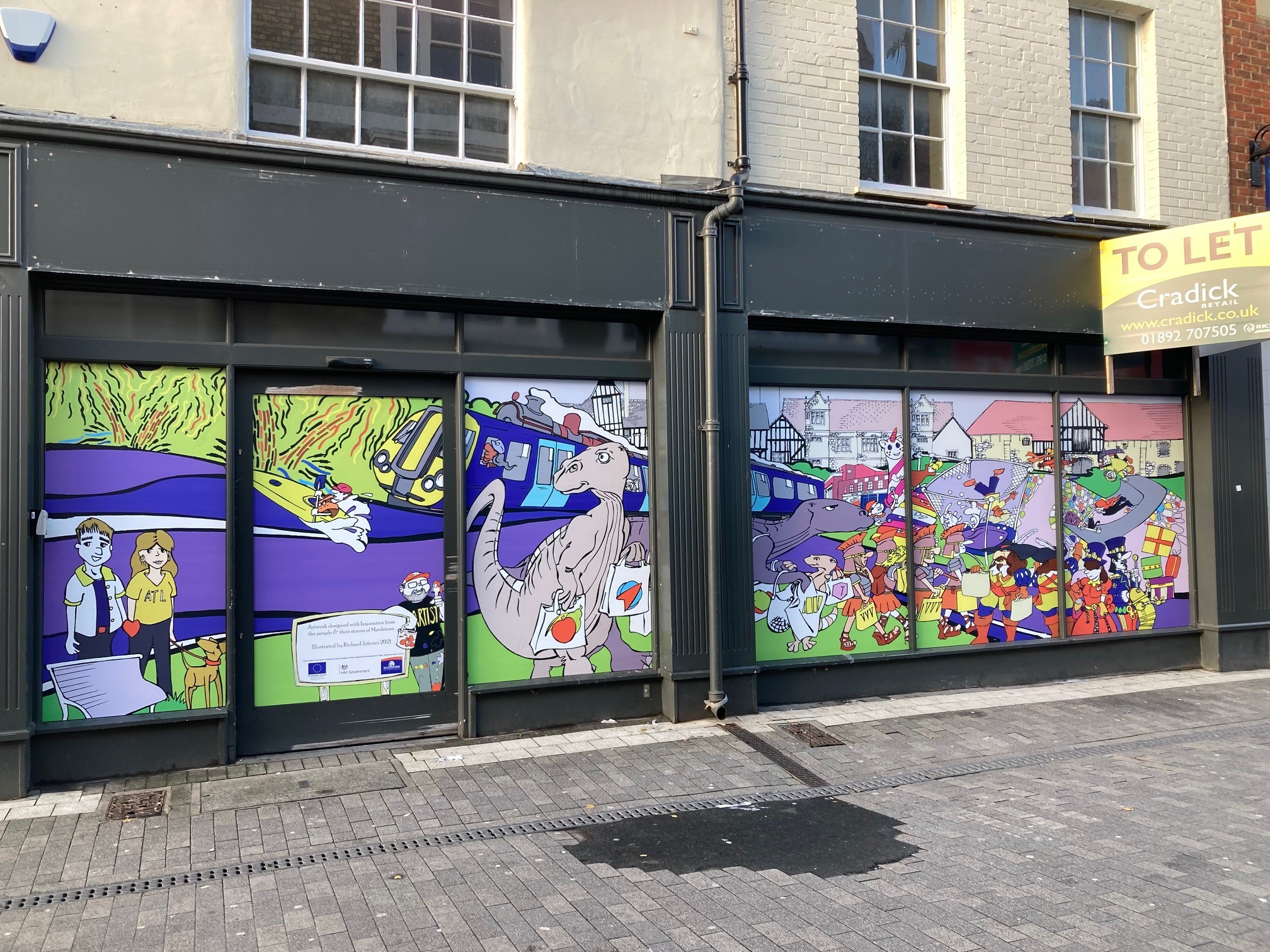 My Maidstone – a public artwork for Week Street
Permanent artworks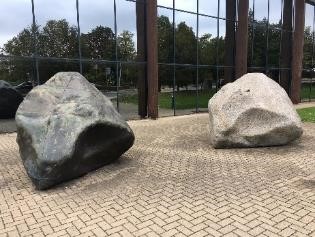 Two Stones
Artist: Antony Gormley
Location: Kent History & Library Centre
Commissioned by KCC in 1979, from a young Antony Gormley, these sculptures were originally destined for Singleton Lake in Ashford.
The piece was designed to represent the old and the new, with one boulder made of granite and the other of bronze. After being vandalised, the pieces were sent away for repair in 2010 and were then moved to their new home in Maidstone in 2013.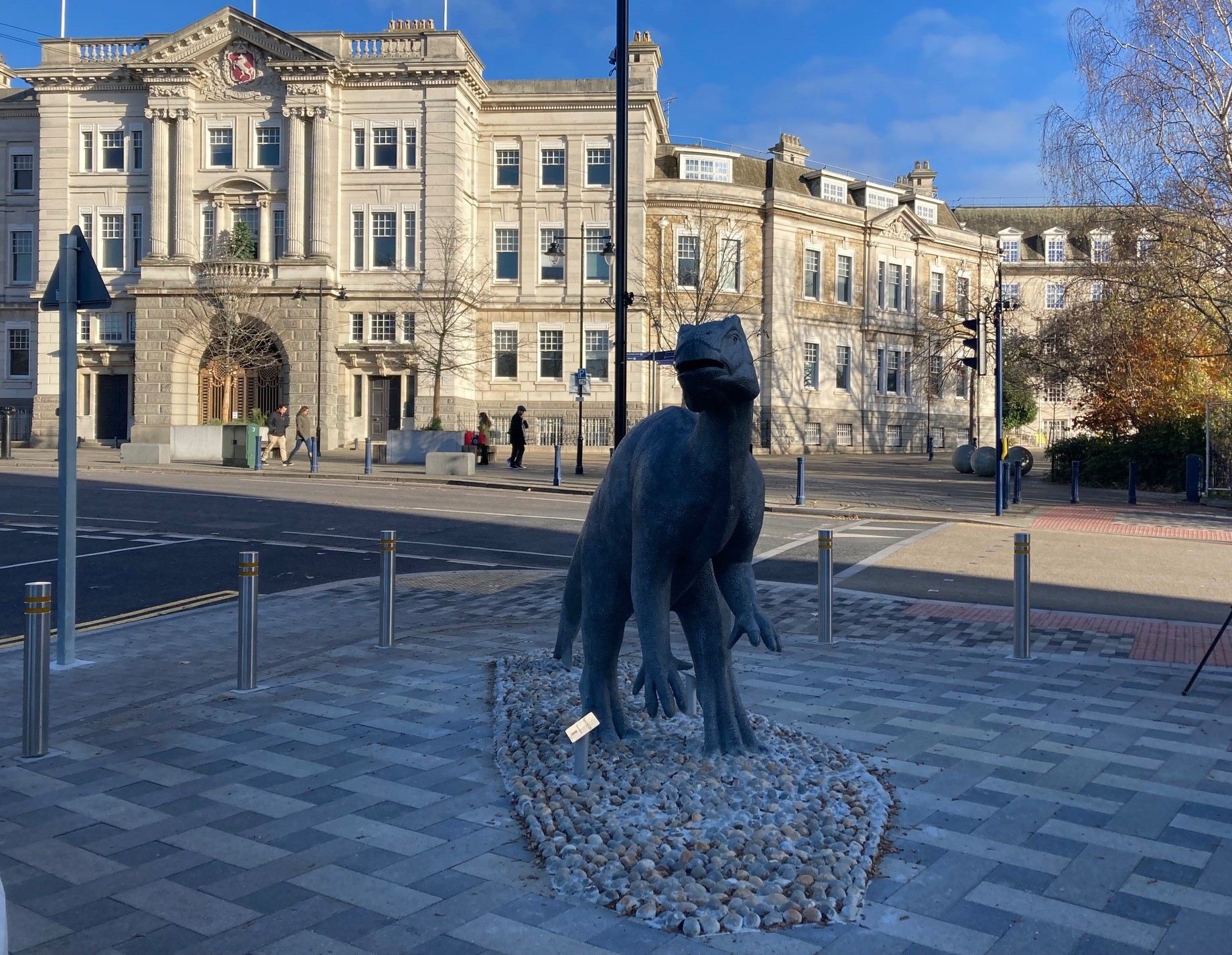 Maidstone Dinosaur (Iggy)
Artist: Gary & Thomas Thrussell
Location: Maidstone East Station forecourt
Commissioned in 2021, this 6' 6" tall, galvanised steel sculpture was created to provide an eye-catching welcome to the town for those arriving by train.
A dinosaur was chosen for the design since a near-complete skeleton of an iguanodon was found in Queen's Road in 1834. The prehistoric creature also features on the town's Coat of Arms.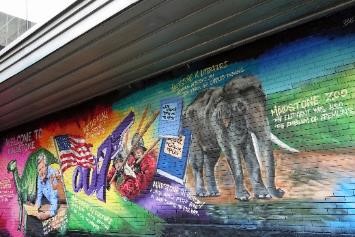 Maidstone Mural
Artist: Graham Upton
Location: Maidstone Bus Station
Arts Council England funding was secured to deliver this 40ft long mural as part of the refurbishment of the town's bus station.
Five local teenagers worked with the artist to create the mural which celebrates Maidstone's connections to the worlds of science, art and literature, and the town's rich history.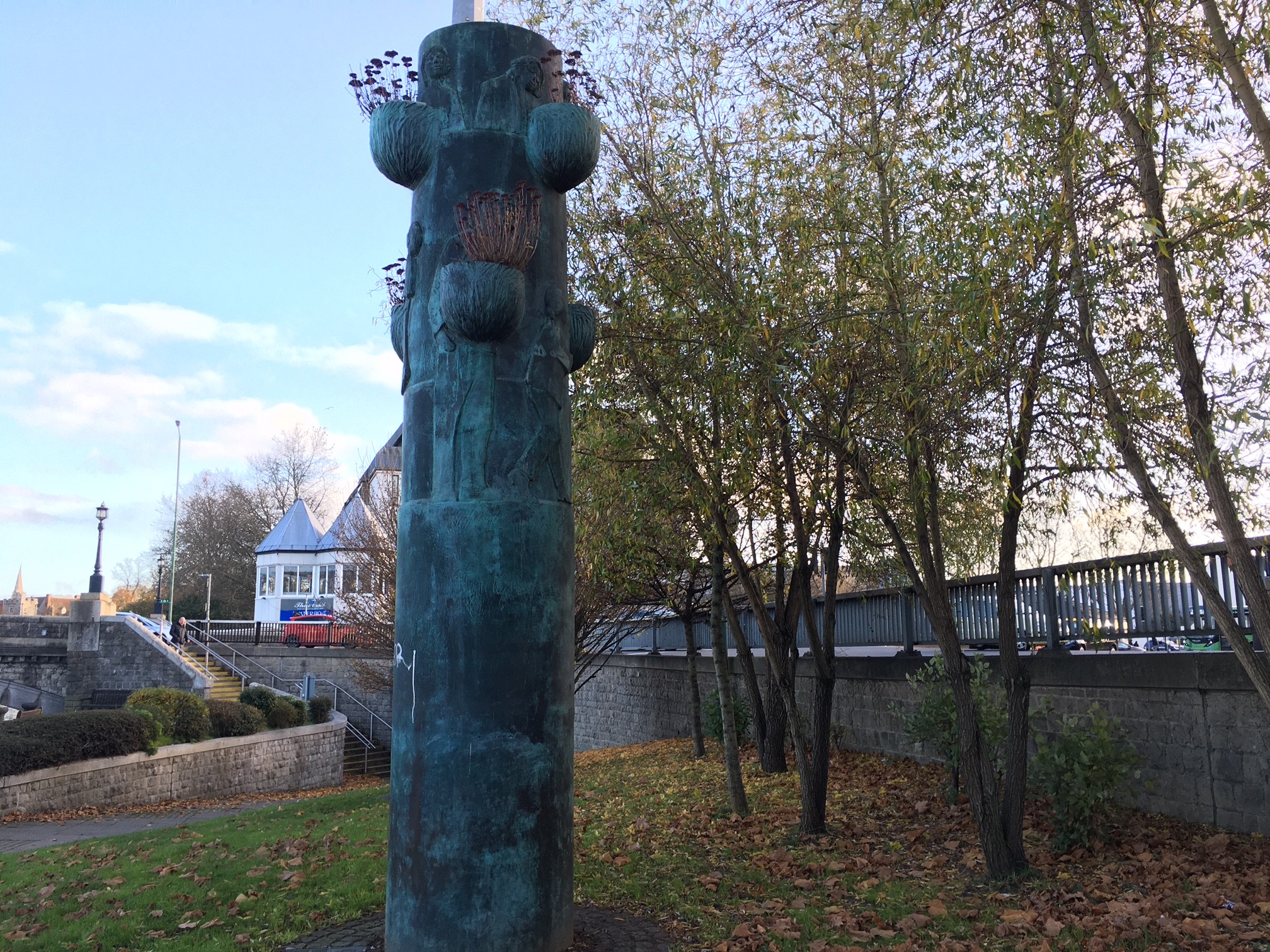 Totem Pole
Artist: Jonathan Maverney
Location: Broadway riverside walk
This bronze sculpture was created in 1998 to celebrate the town's Festival of Flowers that year. Originally installed in the High Street near the junction with Week Street, the Pole was moved to its current location in 2004.
Maidstone Marker
Artist: Rob Olins
Location: Broadway riverside walk
This 60ft tall metal tower has an array of coloured LED lights that flash different colours after dark. It was erected in 2009 as part of the council's Elemental Arts project.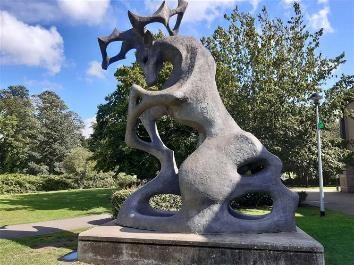 The Stag
Artist: Edward Bainbridge Copnall
Location: Lockmeadow
This 21ft tall, 1.5ton piece was created in 1963 and earned Copnall a silver medal from the Royal Society of British Sculptors that year.
Originally displayed at Stag Place near Victoria Station in London, the sculpture was unveiled by Princess Alexandra. When the station was redeveloped in the late 1990's, it was given by Copnall's daughter, Jill Neff, to Sevenoaks Borough Council, who struggled to find a suitable site for it.
In 2003, Sevenoaks sold the Stag to Maidstone Borough Council and it was unveiled in its current location in 2004 as part of the Millennium River Park project.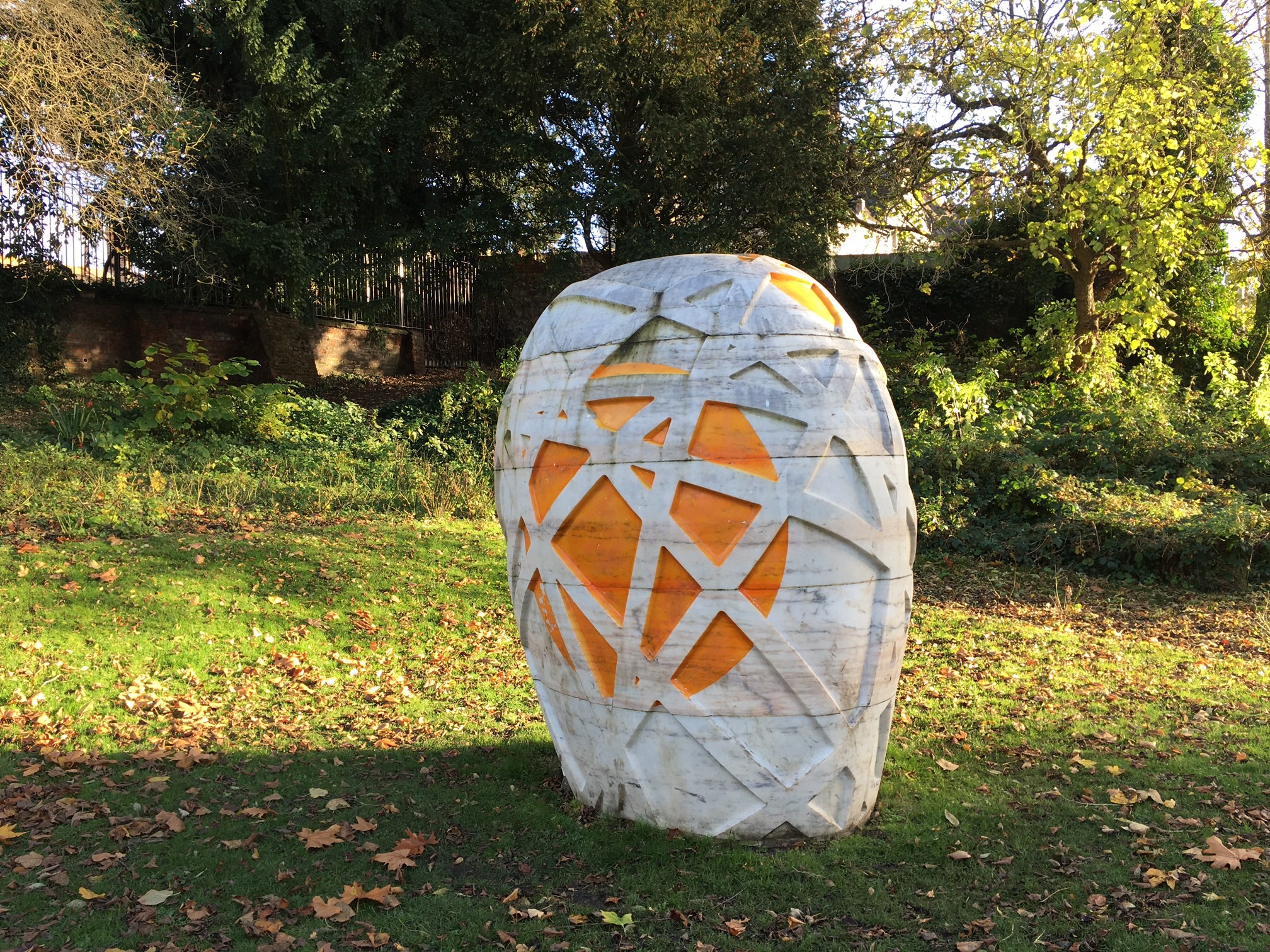 Morning Thoughts
Artist: Ekkehard Altenburger
Location: Rose Garden, Archbishops' Palace
This 6' 6" high sculpture is made of Portuguese marble and resin and was installed in 2009 as part of the council's Elemental Arts Project.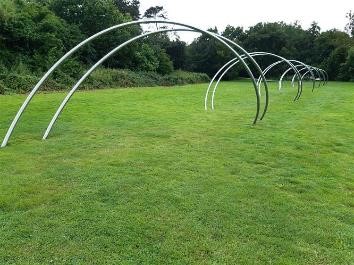 DNA helix
Artist: David Annand
Location: Whatman Park
Created in steel, this piece is 60ft long and 10ft high; designed to represent the double-helix structure of DNA.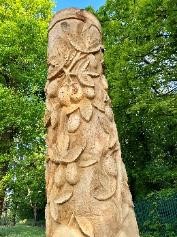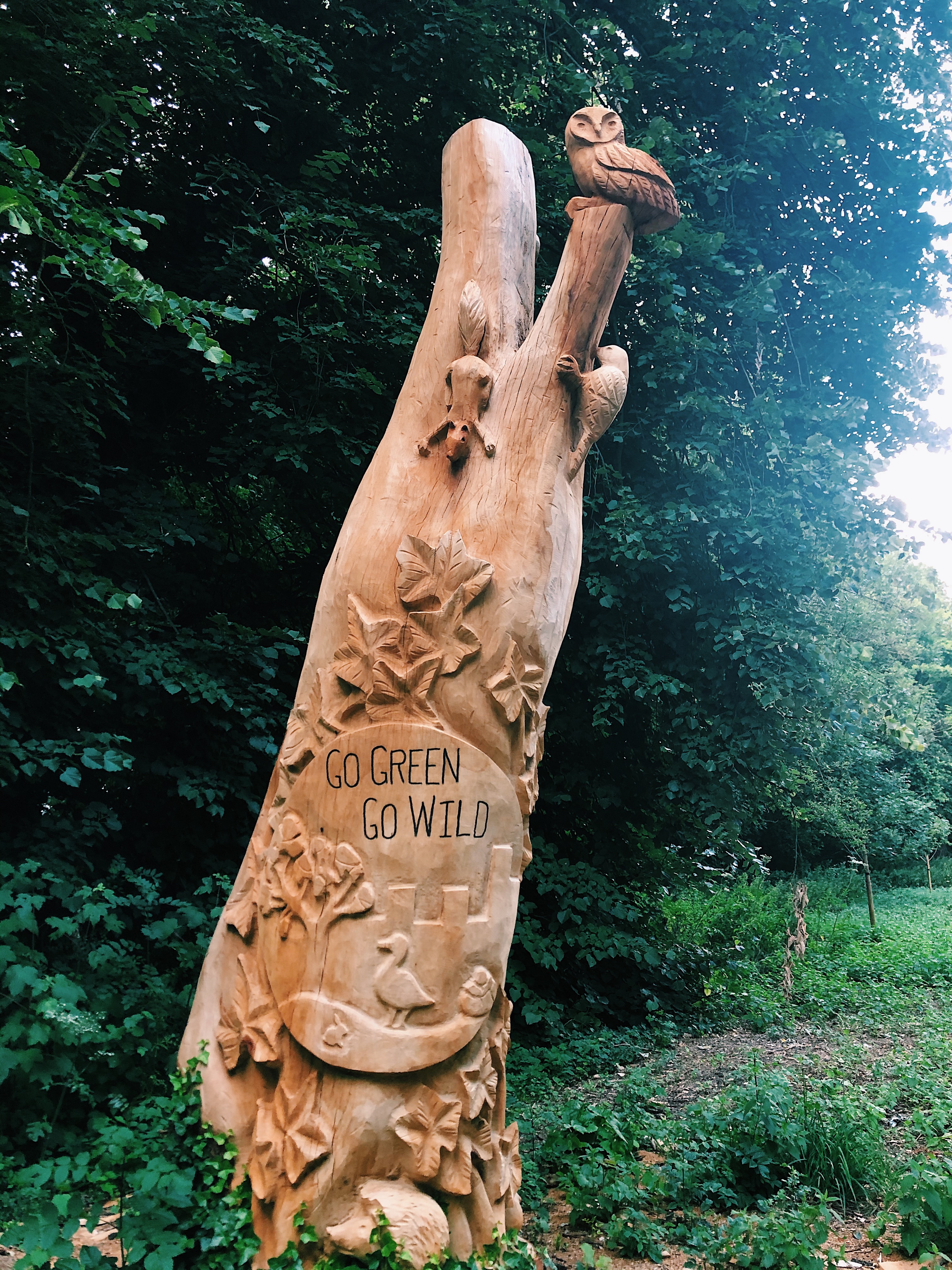 Go Green Go Wild Tree Carvings
Artist: Peter Leadbetter
Location: A20 Ashford Road
These two stunning tree carvings were created as part of a series of works to improve the A20, a major route for people travelling in and out of town.
The designs reflect the Council's commitment to biodiversity, referencing the Go Green Go Wild campaign.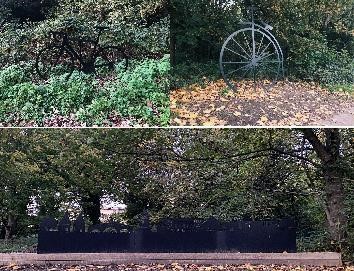 A20 metalworks
Artist: MJ Allen Metalwork Ltd
Location: A20 Ashford Road
These metalwork sculptures include a number of bicycle silhouettes and a Maidstone townscape.
They were created as part of the series of works to improve the A20.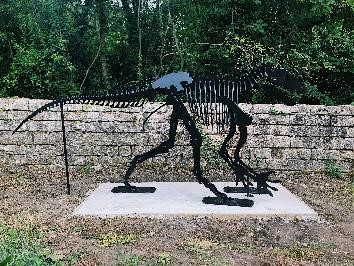 Spike (Little Iggy)
Artist: Lakeland Steel Ltd
Location: A20 Ashford Road
This metal skeleton statue is a tribute to the discovery of the dinosaur, whose fossilised remains were unearthed in 1834 in the Queen's Road area of Maidstone. It was created as part of the series of works to improve the A20.
Although officially called 'Spike' he is more affectionately known as Little Iggy and was quickly adopted by the local community. He now even has his own Facebook page (Iggy the Well Dressed Maidstone Dinosaur)
River Park Trail
Artist: Hannah Connolly
Location: Maidstone River Path between Allington and Teston
A collaboration between MBC, Maidstone River Park, Medway Valley Countryside Partnership and the Old Boat Cafe to create a fantastic nature trail along the River Medway. The trail comprises 20 posts with a zinc rubbing plate on top, a small information plaque and a QR code to provide further details.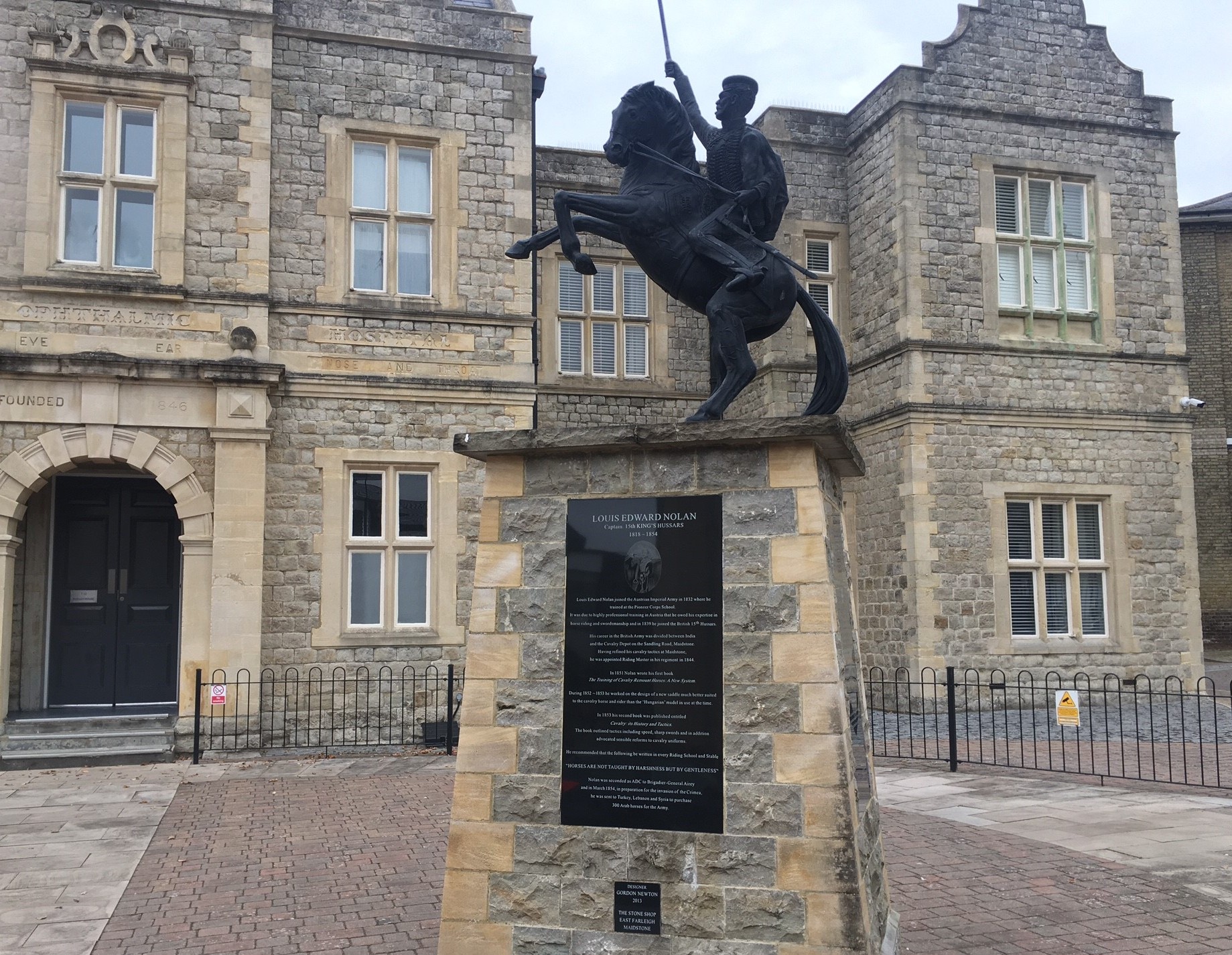 Captain Nolan Memorial
Artist: The Stone Shop & Meltdown Studio
Location: Trinity Foyer, Church Road
This bronze statue on a ragstone plinth honours Captain Louis Edward Nolan, the first to be killed in the Charge of the Light Brigade in 1854. The 4 panels on the plinth detail the history of Captain Nolan's involvement in Maidstone and the Crimean War.
During his time here, Captain Nolan lived in the barracks in Stacey's Street and also in Lion House in Church Street.

Gurkha Memorial
Artist: Mary Cox
Location: Maidstone Museum Courtyard
This statue was commissioned in 2008 to celebrate the 60th anniversary of the formation of the Queen's Gurkha Engineers.
It was funded by donations from the public with the residents of Maidstone taking just 3 months to raise £15,000 for the bronze figure.
The two thirds life-size statue is of a soldier in number two dress and stands on a granite plinth.

Queen's Own Royal West Kent Regiment Memorial
Artist: Peter Birkett
Location: Maidstone Museum Courtyard
This bronze statue was commission in 2013 as a memorial to those of the regiment who gave their lives in the service of their country between 1946 and 1966.
It recognises the long and close relationship between the Borough of Maidstone and the Regiment.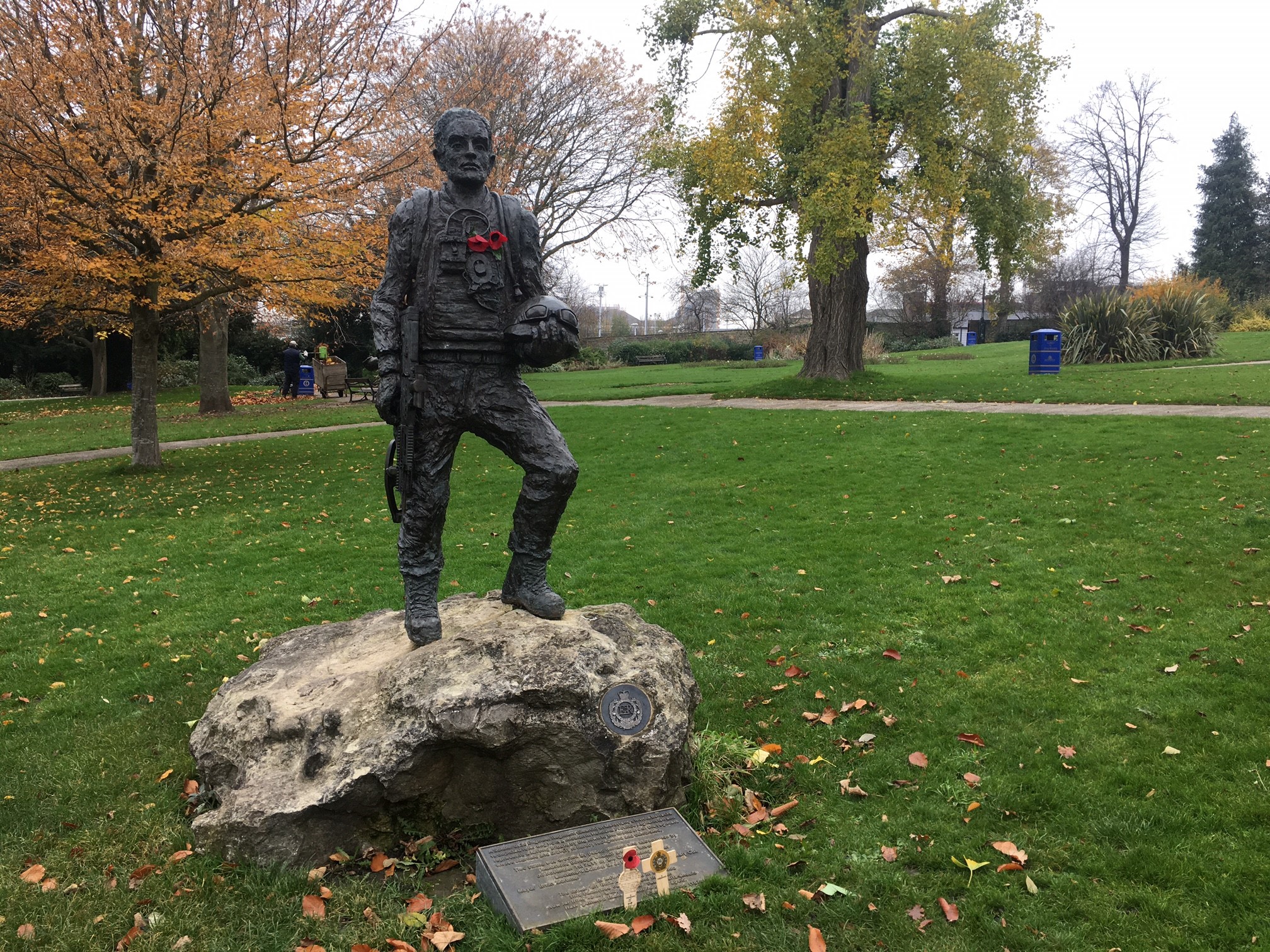 36th Royal Engineers Regiment Memorial
Artist: Mary Cox
Location: Brenchley Gardens
This 6ft tall bronze sculpture depicts a soldier of the Regiment returning from a mission in Helmand Province, Afghanistan.
Funded by local donations and erected in 2011, the memorial is a tribute to members of the Regiment whose bravery and sacrifice is recognised and celebrated.
Interactive map